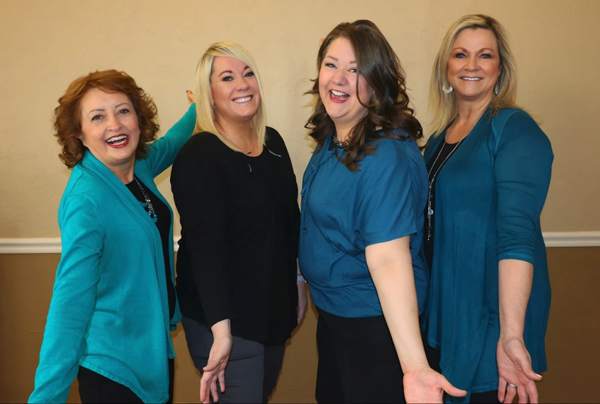 Thank you for visiting Gentle Family Dentistry & Orthodontics online! Dr. Sage White, Dr. Trevor White, and our team are committed to providing excellent patient care and dentistry. If you are unfamiliar with our practice, we invite you to read our reviews to get a better feel for our practice. We want you to know that you will be cared for and comfortable during your visits while receiving gentle dentistry that you can trust. If you would like to leave your own review, or if you are ready to schedule your appointment with our dentists in Cedar City, Utah, please contact us today at 435-586-9991. We look forward to speaking with you soon!

Review us on Google
---


There's nobody like Dr. White. He does beautiful work, and I never felt any discomfort or pain during any of my treatment.
-Rex
---


Dr. White provided a very positive experience and good quality care for our children. Even our 4-year old loves going to see Dr. White and did great when he had fillings placed. We were so impressed with Dr. White's care and reasonable fees that my sister from out-of-state came to see him to have her dentistry completed also.
-Jami and Corrinna
---


We are very pleased with the entire office staff–they have shown us genuine care and concern every time we have come in. We are very happy with the dentistry we have received from Dr. White, and absolutely appreciate his excellent care.
-Greg and Patricia
---


I was literally blown away by how professional Dr. White and his staff are. Marie was extremely helpful in setting up my wife and I for our first appointment. She was knowledgeable about our insurance provider and very considerate in working with our full-time work schedules. We felt like they bent over backwards just to have us come in for a cleaning. I found myself so anxious about seeing a dentist prior to our visit but after my experience at gentle dental, I'm stress free! Dr. White was knowledgeable and he listened to what I had to say. I never felt rushed or like I was misunderstood which is something that has always bothered me about going to the dentist. I've had some great dentists in the past but I would say what makes Dr. White and his team different is that I felt like they genuinely care about my wife and I and our health. Keep in mind that I never knew any of the staff at gentle dental prior to my visit so it's not like I was receiving any "special" treatment. They just value me as a patient and they will value you as well. I can't rave enough about this dental office! Thank you gentle dental team!
-John L.
---


I cannot describe the pain that my mouth was in when I went in to doctor whites office. I had to go in for two appointments and I can't tell you how amazing my mouth feels now… they were so good to get me and so quick as a new patient to get me in and treated me so well the whole time and made sure this big baby was comfortable!!! I can't believe how great the whole staff was!! Highly recommended
Kandis W.
---


Gentle Dental team live up to their name. They are so sweet and a pleasure to work with. I highly recommend giving them a try.
-Biana V.
---


This was myself and husbands first visit to Dr. White's office. We were please to find the staff very friendly. The hygienists were also very pleasant and did great work. Dr. White took time to discuss and explain the ex rays to us. Thank You!!
-Jeannene P.
---


Dr. White is an amazing dentist. I had very bad tmj problems and couldn't find relief. He adjusted my bite and gave me a night guard and it has been soooo much better. Very kind friendly staff, he shows he knows what he is doing and cares about the patients. Will be going to Dr. White for all my dentistry needs!
Whitney S.
---


I had a toothache a couple years ago and I went to several other dentists in Cedar trying to get it fixed. The other dentists took an x-ray and didn't find anything wrong and sent me on my way. Dr. White took the time (on his day off) and figured out exactly where the pain was coming from and found I had an infection down deep. He was able to fix me up quickly and since then he has treated my entire family. He is friendly and professional.
-Mark G.
---


This place has the best dentis in town he and his staff are very nice and he does such great work and they work with you and your sechedual. He always makes sure you are taken care of and he is very gentle.
-Shane P.
---


Dr. White is very professional and accurate in fixing my teeth. He does an amazing job. I give him 5 stars, and I give his staff 5 stars.
-Michele K.
---


I love this dental team! They are all so friendly and Dr. White truly cares about his patients. He gives you options and cares about your experience and fixing the problems right the first time. I've been a patient for three years now and I always leave happy and satisfied with their work.
-Cyndi L.
---


My family and I have been patients in the office for over 12 years! We had a change in our insurance and switched to a a couple different offices, but ultimately came back because no one is as gentle as Dr. White, does such a thorough job, and has such a friendly, wonderful staff.
Additionally, the staff has worked with us with our insurance to make things smooth and easy! I can not say enough about the staff and how they go above and beyond the call of duty to help insure a good experience!
Oh! And Dr. White's shots are amazing- can I say that?!
-Jae P.
---


Great Family Dentist! My daughter and I are 1000% satisfied with our new friends at Gentle Family Dentistry. Dr. White is up on all the latest technology, which made our dentist visit as comfortable as possible. My husband is still awaiting his visit, but I'm sure he will have an awesome experience just as we have. Thank you so much to the team at gentle family dentistry. You definitely know what your doing.
-Alisha S.