Going to the dentist can bring up a lot of questions. Our team at Gentle Family Dentistry & Orthodontics wants to help you feel comfortable and confident in your dental care. Below, we have provided several of the questions we hear most often. We invite you to read through these questions and answers to help you get more familiar with how we provide excellent dentistry in Cedar City, Utah. For further questions, and to schedule your appointment with our dentists, Dr. Sage White and Dr. Trevor White, please contact us at 435-586-9991.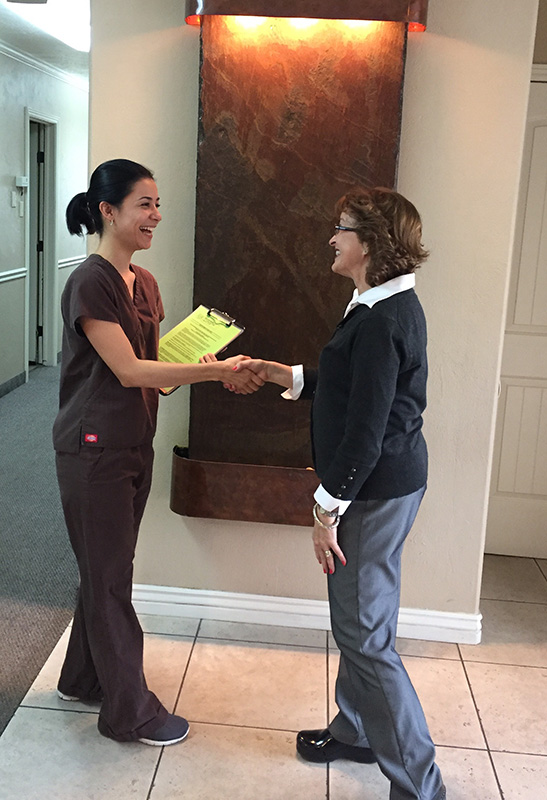 How often should I visit the dentist?
The American Dental Association and our team at Gentle Family Dentistry & Orthodontics recommend visiting the dentist at least twice a year. These routine visits will consist of a dental cleaning and exam. Our dentists and team will also provide you with any necessary treatments, including fillings, sealants, and periodontal treatment. More advanced treatments may require a separate appointment.
What should I expect during my visit?
During your first visit, our dentists and team will compile all of your medical and dental history. We will examine your mouth and perform an oral cancer screening to diagnose your oral health. Our hygienists will also take x-rays of your teeth. If you suffer from dental conditions such as TMJ, our team will also conduct any additional, necessary exams. Based on our findings from your medical history and dental exam, our dentists will recommend treatment options that best serve your dental goals and your oral health. From there, we will plan your treatment in-office, or refer you to a specialist. We will also determine treatment costs beforehand so you can know what to expect and find a plan that fits your budget.
What does "painless dentistry" mean?
At Gentle Family Dentistry & Orthodontics, we use the term "painless dentistry" to refer to our goal of ensuring that your visits are as stress-free and pain-free as possible. To do this, we will discuss all of your treatment options prior to beginning any procedures These options will include both anesthetic and non-anesthetic treatments and aim towards restoring your smile.
What if I have a dental emergency?
If you have a dental emergency, contact our practice right away! Gentle Family Dentistry & Orthodontics is pleased to provide same-day emergency care. We are glad to work with your schedule and provide you with the necessary treatment that you need. If your emergency occurs outside of office hours, on a holiday, or over the weekend, please contact our doctor's emergency number.
Are payment plans available for my dental treatment?
Yes! We accept all major credit cards and also offer low-interest payment plans through CareCredit to help pay for your dental treatments.
No dental insurance?
If you do not have dental insurance, we offer an in-house dental savings plan to ensure you can get your dentistry done at a reduced rate. Please read about our memebership plan here.
Is my dental insurance accepted?
Our office accepts most dental insurance. However, if you are unsure as to whether we are a contracted provider of your insurance, please call our office. We will be happy to contact your insurance carrier and assist you with any questions.
Can the dentist whiten my teeth?
Yes. Gentle Family Dentistry & Orthodontics offers several teeth whitening treatments, including both in-office at at-home treatments. Our in-office treatment uses the Zoom 2 Teeth Whitening system, which allows you to get a whiter smile in just one visit. Our at-home treatments uses custom-fitted trays that you wear overnight, allowing you to wake up to a brighter smile.
What if I have a gap in my teeth, a chipped tooth, or teeth that do not respond to normal bleaching methods?
Various cosmetic dentistry treatments can help treat any irregularities so that your smile looks the same all around. Porcelain veneers are designed to look like your natural teeth, so they can be a great choice for minor aesthetic problems. With dental veneers, our dentists will permanently attach them to the front of individual teeth, typically applying them only to the teeth that need correcting. Bonding is also a great treatment, as the tooth-colored resin fills in the chipped or misshaped areas of your teeth.